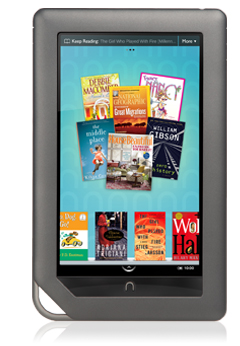 Demos arrived two days ago for the
Nookcolor
in our store. It was like Christmas morning for me ripping open the packaging to get my hands on the new device. After powering it up, signing onto our account and playing around with all of the features I have only one phrase to explain it, "Very very very cool!" (sorry for the grade-school like description, but it is very fitting).
The size and weight is very comfortable to hold and the full-color 7" touch screen display is perfect. You can easily and comfortably hold the Nookcolor in one hand. while using a fingerswipe to turn pages. Setting up is simple and includes a video walk-through at startup, user manual and quick tour on the device. Plus you can sign up for an account right on the device if you don't already have a
www.BN.com
account. Then there are the other great features:
Change font size, margins, types and background colors within books
Place your books you want to access quickly right on any of the 3 'desktop' screens by dragging them and arrange them to your liking.
While reading touch a word and easily look up it's definition plus touch a button to get more information on Google or Wikipedia. Or highlight a whole phrase and share it out on Facebook, Twitter, or your Gmail contacts (easy linking to these accounts in the settings).
Add notes and highlights in books
Password protect the device itself or making purchases. This is great for families that are concerned with kids waking purchases at will.
Lending and borrowing. This is a really cool feature. You can designate which books to share with friends and family who can then easily see which books they can borrow from you for 14 days rather than simply waiting for you to initiate the lending.
Magazines, newspapers, and kids books are in full color and have a great look and feel to them. Kids picture books often have the read-to-me feature where a pre-recorded voice is overlayed in the book and kids can hear the words spoken to them as the follow along with the text.
The web browser is very nice on the 7" screen and can be viewed in landscape or portrait. And, yes, YouTube videos play too.
You can add music, .mp4 video, photos, PDF, Word documents, and Excel files for viewing.
B&N's ebook (now called Nookbooks) is second to none. With over 2 million titles that includes Google Books is an amazing selection. And it's growing everyday.
And the list goes on.
This is already a highly talked about item and will definitely be one of the top gifts this season. Stop by your local Barnes and Noble and check out the Nookcolor today!